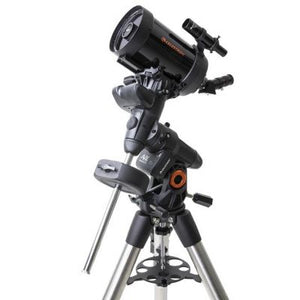 Celestron Advanced VX 5 SCT Goto
€1.849,95

€1.849,95

Save €150
Tax included.
Celestron Advanced VX 5 SCT
For the intermediate visual observer and beginning astroimager, the Advanced VX 5" SCT is the most affordable Schmidt-Cassegrain telescope on a solid GoTo mount. The Schmidt-Cassegrain optical design is ideal for imagers and visual observers looking for a telescope that is much more portable than the reflector or refractor. The Schmidt-Cassegrain design also eliminates chromatic aberration, making it a good choice for entry-level astroimaging.
About the Mount
The new Advanced VX mount was specifically designed to provide optimum imaging performance for smaller telescopes. Now your smaller telescope can take advantage of All-Star Polar Alignment and autoguider support. You'll be able to track through long exposures using permanently programmable periodic error correction. Image across the meridian without doing a meridian flip, so you can seamlessly image the best part of night sky. Advanced VX features significantly larger base castings than our previous design, improving stability under heavier loads. Improved motors offer more torque and can handle slight load imbalances with ease.
 
GENERAL DETAILS:
5" (125 mm) f/10 Schmidt-Cassegrain includes StarBright XLT coatings for better light transmission

Integer gear ratios and permanently programmable Periodic Error Correction eliminates recurring track errors from the worm gear.

Autoguider port for long exposure imaging

New motors offer improved tracking performance & provide more power to overcome load imbalances

Updated industrial design offers more rigidity, less flexure and improved aesthetics

New design allows viewing or imaging across the meridian without interference from the motors housings

Improved latitude range.  Can be used between 7 – 77° latitude.
SPECIFICATIONS
Optical Design: Schmidt-Cassegrain
Aperture: 125mm (5")
Focal Length: 1250mm (49.2")
Focal Ratio: f/10
Focal Length of Eyepiece 1: 25mm (.98")
Magnification of Eyepiece 1: 50x
Finderscope: 6x30
Star Diagonal: 1.25" Star Diagonal
Optical Tube: Aluminum
Highest Useful Magnification: 295x
Lowest Useful Magnification: 18x
Limiting Stellar Magnitude: 13
Resolution (Rayleigh): 1.11 arc seconds
Resolution (Dawes): .93 arc seconds
Light Gathering Power (Compared to human eye): 329x
Secondary Mirror Obstruction: 50mm (1.96")
Secondary Mirror Obstruction by Diameter: 40%
Secondary Mirror Obstruction by Area: 16%
Optical Coatings: StarBright XLT
Optical Tube Length: 355.6mm (14")
Optical Tube Diameter: 180mm (7")
Optical Tube Weight: 6.8 lbs (3.08 kg)
Dovetail: Vixen/CG-5 Dovetail bar
 
Mount Info: 
Mount Type: Computerized Equatorial
Instrument load capacity: 30 lbs (13.6 kg)
Height adjustment range (includes mount and tripod): 1118mm - 1626mm (44" – 64")
Tripod Leg Diameter: 50.8mm (2") Stainless Steel
Latitude adjustment range: 7° - 77°
Mount Head Weight: 17 lbs (7.71 kg)
Accessory Tray: Yes
Tripod Weight: 18 lbs (8.16 kg)
Weight of Counterweights: 1 x 12 lbs
Slew Speeds: 9 slew speeds - max speed 4°/second
Tracking Rates: Sidereal, Solar and Lunar
Tracking Mode: EQ North & EQ South
GPS: N/A
Dovetail Compatibility: Vixen/CG-5 saddle plate
Number of Auxiliary ports: 3 Aux ports (1 hand control and 2 AUX ports for optional accessories
Autoguide port: Yes
USB Port: Yes, input on Hand Control
Power Requirements: 12V DC 3.5A (tip positive) - Recommended - Baader 5A Outdoor PSU or Celestron Powertank Lithium Pro
Motor Drive: DC servo motors
Alignment Procedures: 2-Star Align, 1-Star Align, Solar System Align, Last Alignment, Quick Align
Periodic Error Correction: Yes
Computerized Hand Control: 2 line x 18 character backlit Liquid Crystal Display, 19 LED backlit buttons, USB 2.0 port for PC connection
NexStar+ Database: 40,000+ objects, 100 user defined programmable objects. Enhanced information on over 200 objects
Software: Celestron's Starry Night Special Edition Software, SkyPortal App
Total Kit Weight: 57 lbs (25.85 kg)
 
Included Items:
Advanced VX Equatorial Head

Tripod

Accessory Tray

1 x 12 lbs counterweight

NexStar+ Hand Control

DC Power Cable (item# 18769)

Hand Control Holster
Read more...
We Also Recommend