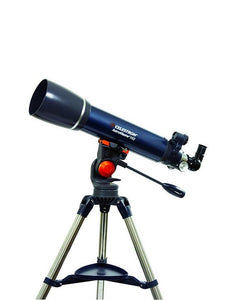 Celestron Astromaster 102AZ Refractor Telescope
€399,95

€399,95
Tax included.
Astromaster 102AZ Refractor Telescope
Discover our Solar System with the Celestron AstroMaster 102AZ! You'll be ready to observe in minutes thanks to the quick and easy no-tool setup. The 102AZ provides bright, clear images of the Moon, planets, star clusters, and more for great nighttime viewing. Its very nice 102mm aperture should keep most beginner enthusiasts happy for a while.

Manual Alt-Azimuth telescope
Navigate the sky with a pan handle Alt-Az control with clutch for smooth and accurate pointing. Move the clutch in an up/down, left/right fashion to track your object in the eyepiece.
Accessories Included
Accessories include a 20mm and 10mm eyepiece, an erect image diagonal, and a Starpointer finderscope. The two eyepieces offer different magnifications for low and high powered views. 
Starry Night Software
Download Celestron's Starry Night Software and learn about the night sky, celestial objects, and how to plan your next observing session. Celestron Starry Night Software is the premier astronomy software package on the market, providing resources and knowledge to view our solar system and beyond. 
90mm refractor telescope with fully coated glass optics and a lightweight frame.
Observe in no time with a quick and easy, no-tool setup.
Accessories include: two eyepieces (20mm and 10mm), erect image star diagonal, and a finderscope.
Panning handle Alt-Az control with clutch for smooth and accurate pointing.
Adjustable height tripod
Download Starry Night Basic Software with a 36,000 object database, printable sky maps and enhanced images including 3D renderings of stars, exoplanets, and galaxies


TECHNICAL SPECIFICATIONS:
Optical Design: Refractor
Aperture: 102mm (4")
Focal Length: 660mm (26")
Focal Ratio: f/605
Focal Length of Eyepiece 1: 20mm

Magnification of Eyepiece 1: 33x
Focal Length of Eyepiece 2: 10mm

Magnification of Eyepiece 2: 66x
Finderscope: Starpointer Red Dot
Star Diagonal: Erect Image - 1.25" 90°

Dovetail Bar: CG5/Vixen

Mount Type: Manual AZ Alt Azimuth inc accessory tray

Tripod: Aluminum
Highest Useful Magnification: 241x
Lowest Useful Magnification: 15x
Limiting Stellar Magnitude: 12.5
Resolution (Rayleigh): 1.37 arc seconds
Resolution (Dawes): 1.14 arc seconds
Light Gathering Power (Compared to human eye): 212x
Optical Coatings: Fully Coated
Optical Tube Length: 711mm (28")
Software

Starry Night: Basic Edition
Read more...
We Also Recommend