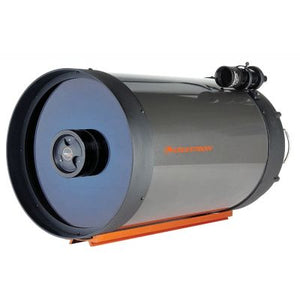 Celestron C14 XLT Ota
€9.799,95

€9.799,95
Tax included.
Celestron Schmidt-Cassegrain Optical Tube Assemblies (OTA) are available individually for use with your favorite mount. Each OTA is made to the same exacting standards as those used on all our high quality telescopes.
All optical surfaces are coated with Celestron's high efficiency StarBright® multi-layered coating group.
General Features:
14" Schmidt-Cassegrain Optical Tube Assembly

Aluminum Optical Tube

Fastar Compatible

Celestron's premium StarBright XLT coatings

3910 mm focal length (f/11)

40 mm 1.25" eyepiece included (98x)

Visual back allows for use with 2" accessories

9x50 finderscope to help accurately find objects

2" mirror diagonal provides more comfortable viewing position when observing objects that are high in the sky

Includes dovetail rail compatible with Losmandy/CGE mount
SPECIFICATIONS:
Optical Design: Schmidt-Cassegrain
Aperture (mm): 355.6 mm (14 in)
Focal Length: 3910 mm (154 in)
Focal Ratio: 11
Focal Length of Eyepiece 1 (mm): 40 mm (1.57 in)
Magnification of Eyepiece 1: 98 x
Finderscope: 9x50
Star Diagonal: 1.25
Optical Tube: Aluminum
Fastar Compatible: Yes
Highest Useful Magnification: 840 x
Lowest Useful Magnification: 51 x
Limiting Stellar Magnitude: 15.3
Resolution (Rayleigh): 0.39 arc seconds
Resolution (Dawes): 0.33 arc seconds
Light Gathering Power (Compared to human eye): 2581 x
Secondary Mirror Obstruction: 4.5 in (114 mm)
Secondary Mirror Obstruction by Diameter: 32%
Secondary Mirror Obstruction by Area: 10%
Optical Coatings: StarBright XLT
Optical Tube Length: 31 in (787 mm)
Optical Tube Weight: 45 lbs (20 kg)
Dovetail Compatibility: CGE/Losmandy Mount
PDF Downloads
Read more...
We Also Recommend