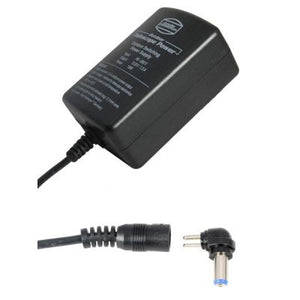 Baader Outdoor Power Supply (12.8V / 1.5A)
€44,95

€44,95
Tax included.
This 12.8 volt /1.5 Amp switching power supply with protective-disconnect plug serves all Celestron telescopes up to the Nexstar Series.
Conventional power supplies having a 12V nominal voltage are made for use in your "living room". When used outside in the cold the voltage will reduce with temperature. Already at -10°C the remaining voltage output may have gone down to only 10.5 V. The motors of many telescope mounts will behave erratic at such low voltage. Especially the motor driver electronics then tries to replace the missing voltage by draining ever more Amps until both - power supply and mount electronics - will stall or become damaged. Many users then blame the mount and it´s messy electronics - instead of checking wether an inadaequate power supply may be the culprit.
The Baader Outdoor Telescope Power supply offers continuous 1.5 Amp/ < 12 volt DC voltage all accross the AC voltage range from 90 to 260volt. Even at extreme cold the voltage can not go down as far as to damage the electronic components or motors of your telescope mount.
19 Watt/ 1.5 Amp permanent power ensure ample reserve for smooth tracking even at full photographic instrument load and high torque variations due to changing telescope balance. In addition to the outdoor voltage of 12.8V also the thermal working temperature has been designed for -25°C to +40°C.
The connecting cord measures 2.5m in length. This is longer than usual to ensure that the wall plug portion of the power supply can be safely stored down the tripod legs so that the power cord will not become a trip-wire. The ellbowed plug does protect the power cable from accidental breakage and especially the telescope power input socket from damage when actually someone would trip over the cable. When accidentally the cable gets tightened the connecting ellbowed plug will release the cable straight, without ripping or damaging the power socket affixed in the telescope.
Output 12.8V DC/ 1.5 Amp (19 Watt)

From 90V to 260V AC

Made for outdoor application

High power reserve for cold temperatures

Water resistant sealed housing

2.5m ( 8.25´) telescope cord

Protective-disconnect ellbowed plug
This item is Baader product 2457610 but with a UK plug.
PDF Downloads
Read more...
We Also Recommend