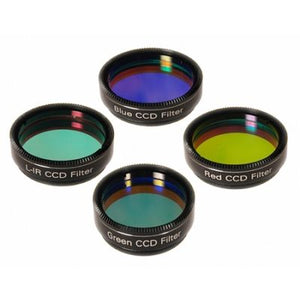 Baader CCD RGB Beginner Filter Set
€99,95

€99,95
Tax included.
Beginners CCD RGB filterset consisting of 3 colour filters (red, green, blue) and the Baader IR Cut Filter. 1.25" (31.7mm) size.
This set is ideal for beginners who are just starting out with colour imaging, it maintains Baaders quality and precision while striving to hold affordability.
Freedom from Ghosts and Halos:  Baader Planetarium's filters have always been halo and ghost free.  Baader balances each dielectric coating stack to avoid the ghosts and annoying halos that plague other mfgr's filters.
Stackability:  Unlike most other filters, Baader Planetarium  filters are truly designed to be stacked and combined.  This is possible due to the high optical quality and highly efficient anti-reflection multicoatings.  The ability to combine filters opens up many interesting possibilities, permitting  unique spectral characteristics unachievable with any single filter.
Special Filter Cell:  Baader's special filter cell design offers unique features that enhance their reliability and usability.  Though difficult to produce, the ultra-thin filter cell results in the maximum possible clear aperture, in order to minimize vignetting (1¼" Filter clear aperture is 27mm!, 2" Filter aperture is 45mm).  The special threading has been designed to fit the wide variety of eyepieces and accessories (there is significant variation between the 1¼" filter threading used by eyepiece and accessory manufacturers).  The front 'crown' of the filter incorporates milled notches which make handling and threading the filter a more secure operation in the dark.
Read more...
We Also Recommend