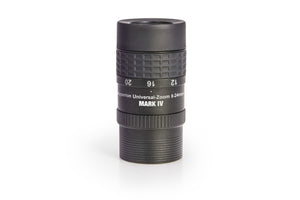 Baader Mark IV Hyperion 8-24mm ClickStop Zoom Eyepiece
€279,95

€279,95
Tax included.
8mm - 24mm Zoom
50º to 68° FoV
1.25" and 2" Fit
Hyperion Universal Zoom Mark IV: fourth generation of Baader-Zoom, 68° Widefield eyepiece with five magnifications - focal lenghts 8, 12, 16, 20 and 24mm clearly defined with "smoothed-out" improved Clickstop Action (a must for effortless binoviewing)
Long eye relief, perfectly matched to the human eye. Flatfield design – sharp right to the edge of field
High Quality Phantom Coating™ Group Multicoatings! For faintest objects, maximum contrast and total freedom from reflections
Large adjustable rubber eyecup, smaller straight rubber eyecup and winged, foldable eyecup included, to fit over M43 photo/video-thread
M43-Video-Photo thread for afocal and classical projection photography, permits optional adaptation of practically any camera with optional accessories
Includes 2" and 1¼" barrel, usable for all 1¼" binoculars with detachable eye-rest and spotting scope with 1 3/8" thread (Celestron / Sky-Watcher and others)
Includes all features of the popular Hyperion Zoom Mark III, as well as
NEW: low weight (290g/10,2oz), slim design of 55mm diameter (perfect for binoviewing)
NEW: Zero-Tilt safety kerfs instead of the hated undercuts in the barrels
NEW: Includes 2" SC-thread for shortest possible adaptation to tescopes or prisms/mirrors
NEW: 4mm backfocus-gain with spotting scope A-Ring (included): the Mark IV focuses with all tested spotting scopes (optional adapters available for most major brands)
NEW: Sufficient distance to clamping screws with telescope adapter B-Ring (included)
NEW: Eyepiece holster with belt strap – hold also firmly on tripod legs
Read more...
We Also Recommend