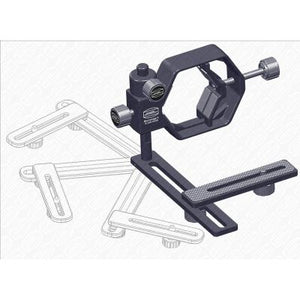 Baader Microstage II Digiscoping Adaptor
€52,95

€52,95
Tax included.
Microstage II / Baader Digiscoping Adapter
The Baader MicroStage II enables camera adaption onto almost any telescope, direct on eyepiece, onto spotting scope and many binoculars.
The camera support arm moves to the side (with clickstop action) for visual aiming. Camera remains completely adjusted and ready for shooting the image when the support arm is 'clicked' back into place.
Rigid, all metal construction

Holds and centres all digital cameras with standard lens

Folding design, requires almost no storage space in your accessory case

Lightweight but extremely strong (290g)

Holds cameras up to 1kg in weight

Fits all eyepieces from 29mm to 63mm in diameter

Measures 175x120x63mm in folded position

Soft leather bag included for scratch free storage together with your valuable optical equipment

Clickstop 3D-camera support arm, perfect for all spotting scopes for birders and shooters alike
Read more...
We Also Recommend