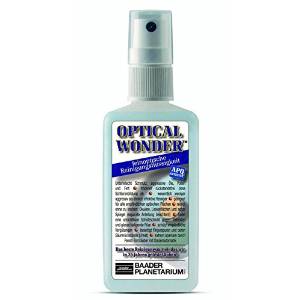 Baader Optical Wonder Cleaning Fluid
€15,95

€15,95
Tax included.
Baader Optical Wonder Cleaning Fluid penetrates dirt, aggressive oils, pollen and grease, and  dries with no residue and without forming streaks.
It's much less aggressive than similarly effective cleaners, and is suitable for all delicate optical surfaces, including eyepieces and refracor lenses.
It cleans without scratching and forms an invisible protective layer against bacteria and fungi that can damage glass.
Baader's Optical Wonder universal optics cleaning fluid was designed specifically for cleaning telescope optics and other delicate optical instruments. It removes dirt and fat from the optics without attacking the coating of the optics (soft coatings without protective coating excepted).
The fluid is Zeiss-APQ tested! It is a worthwhile investment for proper care of your telescope and accessories.

 
An Important Tip for Using the Fluid:

You can spray the fluid directly onto large optical surfaces. We recommend to keep a distance of about 20cm when spraying.
For smaller optical surfaces it is better to spray the fluid on the microfiber cleaning cloth and then use the cloth to clean the surface.
Read more...
We Also Recommend