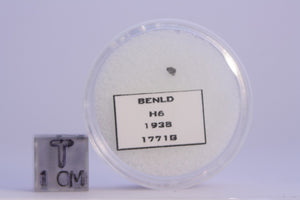 Benld H6 Hammer Stone Meteorite Fragment - Hit Car
€29,95

€29,95
Tax included.
Benld
H6 Meteorite
Fragment, in labelled gem jar.
Hammer stone, hit garage, went through the roof, and hit a car.
A must have stone for any collection.
This is 1 of 4848 approved meteorites (plus 3 unapproved names) classified as H6
Meteorite Information:
Name:

Benld

Abbreviation:

None
Observed fall:

Yes
Year found:

September 29 1938
Country:

USA

Mass:

1771g (Total)
This example: Fragment
On the morning of September 29, 1938, an unusual event stirred the quiet of the little mining town of Benld, Illinois. Between 9:00 and 9:10 o'clock a.m., a roar was heard, that turned out to be the roar that usually accompanies the fall of a meteorite.
Out of a cloudless sky, unobserved by anyone, and unattended by any luminous phenomena or detonations, the meteorite came whizzing to earth like a plane in a power dive and struck the roof of a garage owned by the McCain family. As it struck, it made a 4 by 5 inch rectangular hole in the pine board of the roof, passed through it, and hit and penetrated the top of the family car, a 1928 Pontiac coupe .
Continuing its course, its momentum not yet quite spent, the meteorite next went through the seatcushion, making a ragged hole, then struck and broke through the floor board and hit the muffler hard enough to make an inch-deep dent in it. Finally, at the journey's end, the meteorite bounded back and came to rest entangled in the seat springs.
Neither the damage nor the presence of the meteorite was discovered until late in the afternoon when Edward McCain went to the garage to take his car out. The meteorite was found so badly entangled in the seat springs that the wires had to be cut before it could be removed. Examination of the material of the seat cushion bordering the damage showed no sign of charring. Apparently the meteorite was cold or at best lukewarm when it fell.
Of the nearly fourteen hundred recorded falls of meteorites, only twelve or so are known to have struck and damaged property.
Benld is one of these. It is also the second meteorite known from Illinois.
More information on the meteorite Benld can be found here -
http://www.lpi.usra.edu/meteor/metbull.php?code=5021
About us:
As a member of the International Meteorite Collectors Association we guarantee the authenticity of every meteorite sold. We source them from specialist dealers and collectors worldwide.
All of our meteorites come with Specimen ID Card, COA and often a chain of custody of certificates of previous owners & collectors.
Our meteorites are individually listed, priced, and detailed. The one you buy is the exact one you receive.
Buy with confidence!
**Scale cube not included
Read more...
We Also Recommend