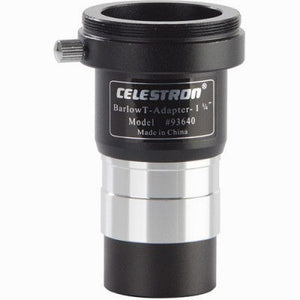 Celestron 2x T-Adapter Barlow Lens 1.25''
€41,95

€41,95
Tax included.
This versatile barlow can be used three ways: as a 2X Barlow for visual use, as a prime focus T-adapter when combined with a T-Ring for your DSLR camera, or as a Barlowed T-adapter for double the magnification and the benefit of extra inward focus travel.

Three in one universal camera adapter
1.25" T-adapter
2x Barlow with T-adapter
2x Barlow for visual

For DSLR prime focus astrophotography just combine this adapter with the correct camera T-ring for your camera.

Read more...
We Also Recommend