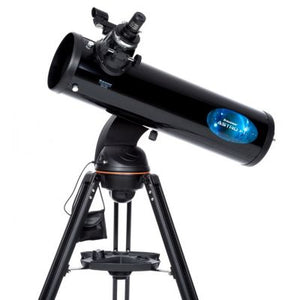 Celestron Astro Fi 130mm Wifi Reflector
€659,95

€659,95

Save €30
Tax included.
Celestron Astro Fi 130mm Wifi Reflector
The Celestron Astro Fi 130mm Wifi Reflector creates its own wireless connection, so it can communicate with your device even in remote locations where WiFi or cellular networks aren't available. Getting ready to observe is quick and painless thanks to Celestron's award-winning SkyAlign technology. Center any three bright objects in the eyepiece, and your telescope calculates its position. You can even generate a Sky Tour of all the best celestial objects to view based on your exact time and location.
Celestron is not only changing the way we experience astronomy, but we're also changing the way you interact with the night sky. The Astro Fi 130mm Reflector is a fully featured telescope that can be controlled with your smart phone or tablet using the free Celestron SkyPortal app. Celestron's SkyPortal app replaces the traditional telescope hand control for a 100% wireless experience. Just hold your smart device up to the night sky. When you find an object you'd like to view, tap the screen. Your Astro Fi telescope automatically slews to the object, while the screen displays information about it. It's never been more fun to explore the universe!
TRUSTED CELESTRON OPTICS
Innovative WiFi technology powers the Astro Fi, but it's the optics inside the telescope tube that make it a Celestron. For over 50 years, we've led the industry in optical technology—and we put that experience into the Astro Fi 130. This 130 mm reflector with fully coated optics offers dazzling views of deep sky objects thanks to its 130mm parabolic mirror, and also great views of craters on the Moon, the rings of Saturn, the Great Red Spot on Jupiter, plus its 4 galilean moons. The large 130mm aperture of the Celestron Astro Fi 130mm Wifi Reflector offers the best resolution and the short focal length gives you incredibly wide fields of view.
FEATURES:
Control your telescope via integrated WiFi using the free Celestron SkyPortal app for iPhone, iPad, and Android devices

130 mm reflector with Aluminium coated mirror, with SiO2 provides outstanding views of the Moon, planets, and nebulae, and more.

The large 130mm aperture offers the best resolution and the short focal length gives you incredibly wide fields of view.

Accessory tray holds 2 x 1.25" eyepieces, miscellaneous accessories, including a rubber-lined area for a smart phone or small tablet.

Includes a StarPointer finderscope, 2 Kellner eyepieces.
SPECIFICATIONS:
Optical Deisgn: Reflector
Aperture: 130 mm (5.19 in)
Focal Length: 650 mm (25.59 in)
Focal Ratio: 5
Focal Length of Eyepiece 1 (mm): 25 mm (0.98 in)
Magnification of Eyepiece 1: 26x
Focal Length of Eyepiece 2 (mm): 10 mm (0.39 in)
Magnification of Eyepiece 2: 65x
Finderscope: StarPointer
Focuser: 1.25"
Mount Type: Single Fork Arm Altazimuth
Accessory Tray: Includes rubberized smartphone or tablet holder
Tripod: Aluminum
Highest Useful Magnification: 307x
Lowest Useful Magnification: 19x
Limiting Stellar Magnitude: 13.1
Resolution (Rayleigh): 1.07 arc seconds arc seconds
Resolution (Dawes): 0.89 arc seconds arc seconds
Light Gathering Power (Compared to human eye): 345x
Optical Coatings: Aluminium with SiO2
Optical Tube Length: TBD
Total Telescope Kit Weight: TBD
Slew Speeds: Up to 3 deg/second
Tracking Rates: Sidereal, Solar, and Lunar
Alignment Procedures: SkyAlign, 3-Star Align, Solar System Align
Communication Ports: Aux port for optional hand control
Database: Over 120,000 objects including 220 of the best deep sky and solar system objects 
Read more...
We Also Recommend