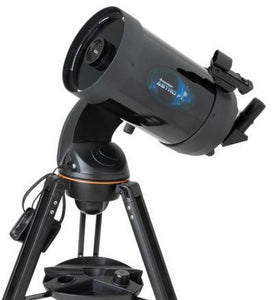 Celestron Astro Fi 6 Schmidt Cassegrain
€1.099,95

€1.099,95
Tax included.
Celestron Astro Fi 6" Schmidt Cassegrain
The Celestron Astro Fi 6" Schmidt Cassegrain is a computerized alt-azimuth Schmidt Cassegrain telescope perfect for terrestrial and celestial viewing on the go. Setting up the telescope is a breeze and will have you observing in no time. Even on your first time out, you can assemble the telescope, its accessories, and download SkyPortal app in just a few minutes. The adjustable tripod legs allow you to customize the telescope's height to your liking. The telescope kit is lightweight and portable, perfect for impromptu observing sessions or transporting wherever life's adventures take you.
For even more fun, Astro Fi's lens cap does double duty as a smartphone adapter. Position your smartphone inside the adapter and then secure it over the Astro Fi's eyepiece to capture images and video of all your discoveries. The Astro Fi offers dazzling views of craters on the Moon, the rings of Saturn, the Great Red Spot on Jupiter, the Orion Nebula, the Hercules Globular Cluster and so much more at night.
Schmidt-Cassegrain Optical Tube
The Astro Fi comes with a 6" optical tube, a great multi-use telescope with 1500 mm focal length (f/10).  The Celestron C6 is equipped with patented StarBright® XLT coatings which visibly increase contrast on subtle lunar, planetary, and nebula details and higher light transmission for brighter deep space images and shorter exposure times. For this application, observers can use the C6 Celestron optical tube to view the night sky or as a terrestrial spotting scope. The Celestron C6 has the best balance of portability, handling ease, light grasp and price ever offered to the amateur astronomer. It is an advanced level instrument that is as easy to use as any intermediate level, and most entry level, telescopes.
StarBright XLT coatings – Schmidt-Cassegrain optical system offers bright, sharp views with StarBright XLT optical coatings—a great choice for visual observers and budding astroimagers alike.  StarBright XLT is Celestron's revolutionary optical coating system that outperforms any other coating in the commercial telescope market. There are three major components that make up our StarBright XLT high-transmission optical system design: Unique enhanced multi-layer mirror coatings, multi-layer anti-reflective coatings, and high-transmission water white glass.  These three components of our StarBright XLT coatings result in one of the finest coatings available. For more information about our patented StarBright XLT coatings, visit here.
Computerized Alt-Azimuth telescope
Take in the sky with the computerized alt-azimuth telescope. This straightforward design allows the telescope to move in all directions.
Integrated WiFi & Celestron's SkyPortal App
Control your telescope using your smart device. The Astro Fi series emits its own wireless connection to Celestron's SkyPortal app to provide easy remote observing. Celestron's SkyPortal app replaces the traditional telescope hand control for a 100% wireless experience. Scan the sky for an object you would like to view, tap the object in SkyPortal and watch your Astro Fi telescope automatically slews to the object. While observing, SkyPortal provides information on the object; it's never been more fun to explore the universe!
NOTE: Due to the amount of information SkyPortal has to offer, we recommend downloading the app before going out to observe.
SkyAlign Technology
Getting ready to observe is quick and painless thanks to Celestron's award-winning SkyAlign technology. Center any three bright objects in the eyepiece, and your telescope calculates its position. You can even generate a Sky Tour of all the best celestial objects to view based on your exact time and location.
Accessories Included
The Astro Fi 6" comes with two eyepieces (25mm and 10 mm), a star diagonal, an smartphone adapter, and a StarPointer finderscope.  The two eyepieces offer different magnifications to view your intended object. The star diagonal provides a right-side-up viewing for a more comfortable viewing angle when looking up at the sky. The StarPointer finderscope will help you quickly center an object in your eyepiece for easier observing.
Smartphone Adapter – Image celestial or terrestrial objects with this smartphone adapter! The Astro Fi has an smartphone adapter to capture great images of the Moon, planets, and terrestrial targets like birds and wildlife. With its light, rigid frame, this accessory allows you to connect any smartphone to any telescope eyepiece with an outside diameter of 45mm or smaller. This smartphone adapter installs easily over the top of an eyepiece while bungee cords securely hold your phone in position so you can snap images or video.  While the vast majority of smartphones can be used with the case on, some very large and/or bulky phone cases (such as folio style cases) may need to be removed for the phone to fit in the adapter.
Starry Night Software
Download Celestron's Starry Night Software and learn about the night sky, celestial objects, and how to plan your next observing session. Celestron Starry Night Software is the premier astronomy software package on the market, providing resources and knowledge to view our solar system and beyond.
GENERAL DETAILS:
6" Schmidt Cassegrain with fully coated glass optics.

Control your computerized telescope via integrated WiFi using Celestron's free SkyPortal app

Observe in no time with a quick and easy, no-tool setup.

Accessories include: two eyepieces (40mm and 13mm), star diagonal, StarPointer finderscope, and a NEW smartphone adapter.

Adjustable height tripod includes an accessory tray.
SPECIFICATIONS:
Optical Design: Schmidt-Cassegrain
Aperture: 150mm (6")
Focal Length: 1500mm (59")
Focal Ratio: f/10
Focal Length of Eyepiece 1: 25mm (0.98")
Magnification of Eyepiece 1: 38x
Focal Length of Eyepiece 2: 10mm (0.39")
Magnification of Eyepiece 2: 115x
Finderscope: StarPointer
Star Diagonal: 1.25"
Optical Tube: Aluminum
Highest Useful Magnification: 354x
Lowest Useful Magnification: 21x
Limiting Stellar Magnitude: 13.4
Resolution (Rayleigh): .93 arc seconds
Resolution (Dawes): 0.77 arc seconds
Light Gathering Power (Compared to human eye): 459x
Secondary Mirror Obstruction: 55.88mm (2.2")
Secondary Mirror Obstruction by Area: 14%
Secondary Mirror Obstruction by Diameter: 37%
Optical Coatings: StarBright XLT
Optical Tube Length: 406.4mm (16")
Optical Tube Diameter: 155mm (6.1")
Optical Tube Weight: 4.8 lbs (2.17 kg)
Dovetail: Vixen / CG-5 Dovetail bar
Mount Type: Computerized Altitude-Azimuth Single Fork Arm
Instrument load capacity: 8 lbs (3.6 kg)
Height adjustment range (includes mount and tripod): 863.6mm - 1371.6mm (34" - 54")
Tripod leg diameter: 31.75mm (1.25") Aluminum
Mount Head Weight: 5 lbs (2.3 kg)
Accessory Tray: Yes. Includes rubberized smartphone or tablet holder
Tripod Weight: 5 lbs (2.3 kg)
Slew Speeds: max slew rate is 3°/second
Tracking Rates: Sidereal, Solar, and Lunar
Tracking Modes: Alt-Az, EQ North & EQ South
GPS: N/A
Dovetail Compatibility: Vixen / CG-5 Dovetail
Number of Auxiliary ports: 2x Aux port for optional accessories
Autoguider port: No
USB Port: No (only with optional Nexstar+ remote)
Power Requirements: 12V DC, 1A (Tip positive)
Motor Drive: DC servo motor
Alignment Procedures: SkyAlign, 3-Star Align, Solar System Align
Periodic Error Correction: No
Computerized Hand Control: Hand control not included (optional)
NexStar+ Database: Optional Nexstar+ hand remote provides over 4,000 objects in the computer's database
Software: Celestron's Starry Night Special Edition Software, SkyPortal App. Each provide over 100,00 objects in their database
Total Kit Weight: 14.8 lbs (6.71 kg)
 
Included Items:
Telescope OTA

Mount

Tripod w/accessory tray

2x eyepieces

Red dot starpointer

Battery pouch
Read more...
We Also Recommend