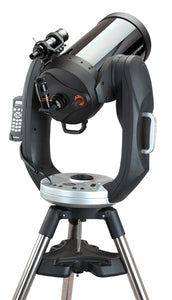 Celestron CPC 925 GPS XLT
€4.099,95

€4.099,95
Tax included.
CPC 925 GPS — Unique design, advanced features, GOTO accuracy, and superb optics. You get the picture.
Celestron's 9.25" optical system has enjoyed a loyal following since we first introduced it with our Ultima 9.25" in 1995. Now the 9.25" optical tube is coupled with Celestron's newest computerized telescope family — the CPC GPS series.
The 9.25" was already a favorite among astrophotographers and discerning visual observers and it offers 33% more light gathering than our 8" model. The CPC 925 GPS was specifically designed for visual infinity focus when using 2" eyepieces and has an optimized baffle system to benefit astrophotography by minimizing vignetting at the edge of the field of view. Its longer primary focal length and lower magnification secondary mirror contribute to a flatter field of view at the focal plane and helps to further reduce optical aberrations.
This feature packed model comes standard with Celestron's renowned StarBright multi-coatings. The CPC 925 GPS is compatible with the complete line of Celestron photographic and visual accessories.
What makes the CPC 925 GPS great for astrophotography?
Longer focal length primary and lower magnification secondary— Contributes to a flatter focal plane with less coma and off-axis astigmatism.

Baffle design —Optimized for astrophotography. Minimizes vignetting at the edge of the field of view. This reduces light drop off at the corners of your film plane.

Hand Figured Optics — Just like all other Celestron Schmidt-Cassegrain telescopes, the CPC 925 GPS optics are individually matched and hand figured to ensure the highest optical quality in every telescope.

Focus mechanism — At the heart of Celestron's Schmidt-Cassegrain focus mechanism are pre-loaded ball bearings, not bushings, minimizing focus shift.

Heavy-duty die cast aluminum fork arms —For maximum rigidity.

Unique roller bearing design bearing and shaft —The telescope base rotates around a wide 9.5" track for maximum stability; especially important when equatorially mounted for imaging.

Autoguider port — For interfacing an autoguider or a drive corrector for long exposure imaging or astrophotography.

StarBright coatings — High quality multi-layer coatings maximize transmission of light to the film plane.
Celestron's CPC Series with revolutionary SkyAlign Alignment
Technology re-defines everything that amateur astronomers are looking for — quick and simple alignment, GPS, unsurpassed optical quality, ease of set-up and use, ergonomics, enhanced computerization and, most important, affordability.
Internal GPS
The CPC Series' internal GPS receiver automatically downloads the date and time from orbiting satellites and pinpoints its exact location on Earth. This eliminates the need for you to manually enter the date, time, longitude and latitude.
Celestron's Revolutionary SkyAlign
Once the CPC's internal GPS has established the telescope's position, aligning the telescope is as easy as 1-2-3! Simply locate and use hand control to manually point (slew) the telescope to three bright celestial objects. You do not need to know the names of the stars — you may even pick the moon or bright planets! Celestron's NexStar® software technology will model the night sky to determine the position of every star, planet and celestial object above the horizon. Once aligned, the remote hand control allows direct access to each of the celestial catalogs in its user-friendly database.
Celestial Object Database
The CPC database contains over 40,000 celestial objects including Messier objects, the Caldwell Catalog, as well as NGC Galaxies, nebulae and planets. User-definable filter limits make navigating through this expansive database quicker and easier. Filter Limits let you filter out objects that are outside of your local horizon (ie, if trees or mountains were in the way).
Identify feature tells you what you're looking at, but it can also be a very fun way to tour around the sky. Just point the telescope up somewhere and ask it to identify Messier objects (for instance) and it will show you the 5 nearest Messier objects to your position and let you GOTO them. You can keep doing this for different parts of the sky or for different object types -- it is a lot of fun.
There's also "Solar Sys Align" that lets you align on the sun or moon for daytime observing -- it is easy to use this to see planets or bright stars in the day.
Innovative Features
The CPC Series telescopes, like our acclaimed Advanced Series and premium CGE Series telescopes feature meticulously matched and hand-figured optical systems that are manufactured in our facilities in Torrance, California. In addition, all CPC models are available with StarBright and StarBright XLT High Performance Optical Coatings.
With the introduction of the CPC Series, Celestron has "gone back to the drawing board" and re-designed, re-engineered, and re-invented a telescope family that provides superior quality, unsurpassed ease of use, and incomparable value. All CPC models ship standard with our NexRemote telescope control software.
General Features:
9.25" diffraction limited Schmidt-Cassegrain telescope

Celestron's premium StarBright XLT coatings

Fully computerized dual fork arm Altazimuth mount

8x50 finderscope to help accurately find objects

Newly designed heavy-duty tripod makes attaching the telescope so easy you can do it in the dark; also features sturdy 2" steel legs and accessory tray

Ergonomic design - Comfortably lift and move the telescope from location to location

Star diagonal provides more comfortable viewing position when observing objects that are high in the sky

Convenient remote hand control holder - Allows you to view information hands-free while using the scope
Computerized Mount Features:
Proven NexStar computer control technology

40,000 object database with over 100 user-definable objects and expanded information on over 200 objects

Custom database lists of all the most famous deep-sky objects by name and catalog number; the most beautiful double, triple and quadruple stars; variable stars; solar system objects and asterisms

Re-designed drive base and drive mechanics - Quiet operation; large drive gears, quick release clutch

SkyAlign allows you to align on any three bright celestial objects, making for a fast and easy alignment process

Flash upgradeable hand control software and motor control units for downloading product updates over the Internet

Permanent PEC

Auxiliary port for additional accessories such as Autoguider, GPS accessory

NexRemote telescope control software and RS-232 cable included for advanced control of your telescope via computer
TECHNICAL SPECIFICATIONS:
Optical Design: Schmidt-Cassegrain
Aperture (mm): 235 mm (9.25 in)
Focal Length: 2350 mm
Focal Ratio: 10
Focal Length of Eyepiece 1 (mm): 40 mm
Magnification of Eyepiece 1: 59 x
Finderscope: 8x50 Finderscope with quick release bracket
Star Diagonal: 1.25
Mount Type: Dual Fork Arm
Accessory Tray: Leg Brace / Eyepiece holder
Tripod: Heavy Duty Steel Adjustable
Power Requirements: Car battery adapter
Highest Useful Magnification: 555 x
Lowest Useful Magnification: 34 x
Optical Coatings: Starbright XLT Coating
Total Telescope Kit Weight: 58 lbs (26 kg)
Tracking Rates: Sidereal, Solar and Lunar
Tracking Modes: Altazimuth, EQ North and EQ South
Alignment Procedures: SkyAlign, Auto Two-Star Alignment, Two-star Align, SolarSystem Align, EQ North Align, EQ South Align, One-Star Align
Periodic Error Correction: Permanently Programmable
Communication Ports: RS-232 communication port on hand control
Computer Hand Control: Double line, 16 character Liquid Crystal Display; 19 fiber optic backlit LED buttons
Database: 40,000+ objects, 100 user defined programmable objects. Enhanced information on over 200 objects
GPS: Internal 16 channel
Warranty: 2-year Telescope Warranty
PDF Downloads
Read more...
We Also Recommend