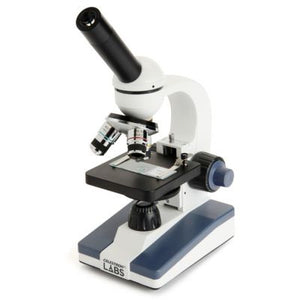 Celestron Labs CL-CM1000C Microscope
€199,95

€199,95
Tax included.
The Celestron Labs CM1000C compound microscope offers today's latest advances at an economical price, including lower LED lighting that provides bright, natural colors, yet stays cool to the touch.  Two included eyepieces (10x and 25x) and 3 objective lenses (4x, 10x and 40x) allow for magnifications of 40x, 100x, 250x, 400x and 1000x.
Strong and stable thanks to its all-metal construction, this microscope features coaxial, course and fine focus guaranteeing fine-detailed viewing. The 10 included prepared slides guarantee exciting discoveries right out of the box. The simple condenser with rotating disc aperture adjusts the lower illumination for enhanced viewing. All these features make the CM1000C an excellent tool for labs, schools, field use and more.
 
FEATURES:
Lab-ready compound microscope with 1000x power

10x and 25x eyepieces with 4x, 10x and 40x objective lenses

View specimens at 40x, 100x, 250x, 400x, 1000x magnification

All-metal construction

Coaxial, coarse and fine focus

Built-in LED illumination for easy viewing

Universal AC adapter included

3 AA batteries included

10 prepared slides included
SPECIFICATIONS:
Eyepieces: (1) WF 10X/ (1) WF 25X
Objectives: (3) 4x, 10x, 40x- on triple click rotating objective turret
Magnification: 40x to 1000x
Focuser: Coaxial, coarse/fine focus knob
Head: 360-degree rotatable monocular with 45-degree incline
Illuminator: Lower, LED
Condenser: NA, 0.65
Diaphragm: Disc diaphragm with 6 aperture sizes
Stage: Plain stage with metal clips, 3.5 in x 3.5 in (88mm x 88mm)
Power: 2 options: Universal AC adapter and 3AA batteries (included)
Accessories: 10 prepared slides
Dimensions: 4.6 in x 6.3 in x 12 in (117 mm x 160 mm x 305 mm)
Weight: 3lbs-14oz. (1.76 kg)
PDF Downloads
Read more...
We Also Recommend