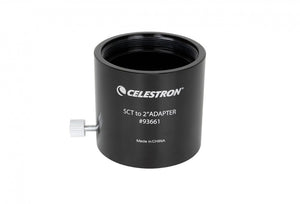 Celestron SCT 2'' Adapter
€29,95

€29,95
Tax included.
This metal adapter screws onto the standard rear cell threads of Schmidt-Cassegrain and Maksutov-Cassegrain telescopes and accepts 2" accessories, including diagonals, eyepieces (for straight-through viewing), Barlows, webcams, and any other accessory with a 2" insert barrel. Basically its a 2" Visual Back.
Celestron's high quality SCT to 2" SCT adaptor provides a solid connection between a Schmidt-Cassegrain or Maksutov-Cassegrain telescope and 2" accessories (e.g 2" diagonal). This accessory makes it possible to maximise the views through your telescope with your standard 2" push-fit diagonal, eyepieces, and other accessories (like 2" photo adaptors) allowing you to connect a camera for astroimaging.
The adaptor offers an ultra-secure threaded connection to your telescope. On the other side, a brass compression ring provides a strong grip on eyepieces accessories without scratching or denting their barrels. To tighten the ring around the accessory, just adjust the set screw.
With its precision machined aluminium construction and black anodised finish, this adaptor will resist corrosion and wear, providing you with years of use. The black interior also reduces the internal light reflections, enhancing your view.
FEATURES 
Threads onto the rear of Celestron 5" - 11" Schmidt-Cassegrain telescopes.

Accepts any accessory with a 2" insert barrel, including diagonals, eyepieces, Barlows, and other adapters.
Read more...
We Also Recommend