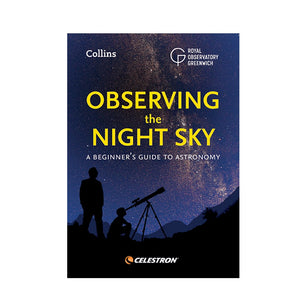 Collins Observing the Night Sky Beginners Guide
€11,95

€11,95
Tax included.
Observing the Night Sky Beginners Guide
Written by Radmila Topalovic & Tom Kerss, 110 pages, paperback
A brilliant introductory guide to exploring the night sky - from the astronomers of the Royal Observatory at Greenwich
Offering complete advice from the ground up - Stargazing is the perfect manual for beginners to astronomy, introducing the world of telescopes, planets, stars, dark skies and celestial maps
Discover how to tackle light pollution, how to stargaze with just your eyes, and what equipment is best for beginners
Seasonal star charts, constellation charts and facts about our Solar System. Stargazing is packed full of useful information and guidance for both the Northern and Southern Hemispheres.
Allows a complete novice to understand our place in the cosmos and enjoy the beautiful wonders of the night sky
Read more...
We Also Recommend