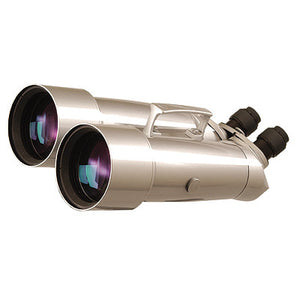 Helios Quantum 5 20/40x100 Observation Binoculars
€1.329,95

€1.329,95
Tax included.
Top-quality waterproof observation binocular with individual helical eyepiece focusing, designed for medium-to-long-range terrestrial and astronomical observations.
Incorporating oversized BAK-4 prisms and a fully broadband multi-coated optical system.
Top quality objective lens doublet.
Supplied with two pairs of eyepieces. Eyepieces are angled at 45°, offering excellent versatility for both terrestrial and astronomical viewing.
Features carrying handle, built-in lens hoods and tripod adaptor. High quality precision all-metal construction.
Supplied in foam-lined Aluminium storage/carrying case.
"The quality of finish was excellent….The lightness of this setup meant we could leave them ready assembled to take out at a moments notice….The 45° angled eyepieces allow for strain-free high-angle observations….The built-in extendable dew shields worked a treat: no dew formed, even after several hours outside….The ocular adjustment was the best of all the binoculars we tested….The double star Albireo was nicely coloured, with the blue and yellow primary split well….Nebulae and globulars contained subtle detail"
BBC Sky At Night Magazine
Read more...
We Also Recommend