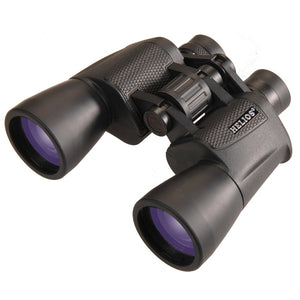 Helios Solana Range
€59,95

€59,95
Tax included.
A range of high quality, well constructed porro prism binoculars finished in attractive, black rubber armouring.
Knurled rubber finger grips ensure they are secure and comfortable to hold.
All models feature quality BK-7 prisms and all optical surfaces are fully coated, providing very good optical performance.
Overall these binoculars offer construction and performance which belie their modest prices.
All models are fitted with a tripod adaptor bush and supplied with neck strap and soft case.
Colour/Material: Black Rubber
Eye relief as follows:
8x40 (10mm)

7x50 (12mm)

10x50 (10mm)

12x50 (9mm)

16x50 (7mm)
Model
SOLANA
Specification
8x40 
7x50 
10x50 
12x50 
16x50 
Magnification
x8 
x7 
x10 
x12 
16x 
Object Lens Diameter
40mm 
50mm 
50mm 
50mm 
50mm 
Field of view
7.8 Degrees 
6.8 Degrees 
6.5 Degrees 
5.2 Degrees 
3.8 Degrees 
Actual Field of View
138M@1000M 
119M@1000M 
114M@1000M 
88M@1000M 
61M@1000M 
Nearest Focus Distance
7M 
7M 
8M 
12M 
12M 
Read more...
We Also Recommend