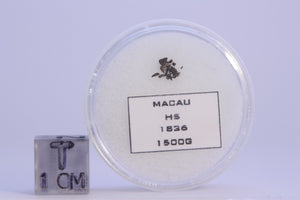 Macau H5 Hammer Stone Meteorite Fragment - Killed Cattle
€39,95

€39,95
Tax included.
Macau
H5 Meteorite
Fragment, in labelled gem jar.
Hammer stone, hit a herd of cattle, and as the meteorite had broken up into many pieces, it killed a few of them.
Meteorite Information:
Name:

Macau

Abbreviation:

None
Observed fall:

Yes
Year found:

November 11 1836
Country:

Brazil

Mass:

1500g (Total)
This example: Fragment
More information on the meteorite Macau can be found here -
http://www.lpi.usra.edu/meteor/metbull.php?code=15370
About us:
As a member of the International Meteorite Collectors Association we guarantee the authenticity of every meteorite sold. We source them from specialist dealers and collectors worldwide.
All of our meteorites come with Specimen ID Card, COA and often a chain of custody of certificates of previous owners & collectors.
Our meteorites are individually listed, priced, and detailed. The one you buy is the exact one you receive.
Buy with confidence!
**Scale cube not included
Read more...
We Also Recommend