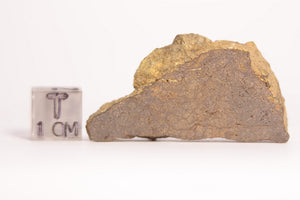 NWA 2965 Enstatite Achondrite Meteorite 10.2g Slice
€24,95

€24,95
Tax included.
NWA 2965
EL3 Enstatite Achondrite Meteorite
Thought to be one of the oldest meteorites found, its been on earth about 23,000 years.
It has been reclassified a few times, as EL6/7, Aubrite and now finally EL3.
Similar to and likely paired with NWA 002, NWA 1067, NWA 2736 and NWA 2828.
Meteorite Information:
Name:

 

Northwest Africa 2965

Abbreviation:

 

NWA 2965

Observed fall:

 

No
Year found:

 

2004
Country:

Northwest Africa

Mass:

c.3000kg (Total)
This example: 10.2g - Part Slice
OFFICIAL CLASSIFICATION DATA SOURCE:
The Meteoritical Society
International Society for Meteoritics and Planetary Science
Lunar and Planetary Institute
Meteoritical Bulletin Database
About us:
As a member of the International Meteorite Collectors Association we guarantee the authenticity of every meteorite sold. We source them from specialist dealers and collectors worldwide.
All of our meteorites come with Specimen ID Card, COA and often a chain of custody of certificates of previous owners & collectors.
Our meteorites are individually listed, priced, and detailed. The one you buy is the exact one you receive.
Buy with confidence!
**Scale cube not included
Read more...
We Also Recommend