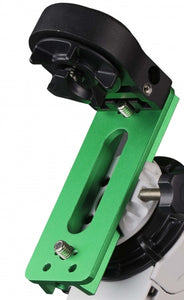 Skywatcher Dovetail L-Bracket for Star Adventurer
€49,95

€49,95
Tax included.
Standard dovetail fitting L-Bracket, designed for Star Adventurer. Weighs 500g.
Fits directly in the Vixen-style dovetail bracket of the Star Adventurer.
Threaded on end to accept M8 Counterweight shaft.
Comes with following specs:
 
1/4" Camera Thread

360° rotation - adjustable with friction clutch.

Very fine adjustment for precise framing of targets.

3/8" screw at the opposite side, e.g. for small guiding scopes, or additional ball heads.


 
Read more...
We Also Recommend