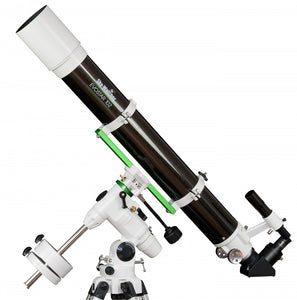 Skywatcher Evostar 102 EQ3-2
€599,95

€599,95
Tax included.
The Sky-watcher EVOSTAR series are two-element, air-spaced, multi-coated objective achromatic refractors.
They are truly outstanding, high-performance, high-resolution instruments manufactured to extremely high standards of optical and mechanical precision
This Evostar 102mm refractor is mounted on a manually controlled EQ3-2 Equatorial mount.
With their long focal lengths and breathtaking, diffraction limited optical performance, they are ideal for the detailed high-power study of the Moon, Planetary Surfaces and other objects in our solar system, giving crisp contrasty image.
These telescope packages will stand you in great stead for a lifetime of serious astronomical viewing.
Standard Specifications:
 
Magnifications (with eyepieces supplied): x40 & x100

Highest Practical Power (Potential): x204

Objective Lens Diameter: 102mm

Telescope Focal Length: 1000mm (f/9.8)

Eyepieces Supplied (1.25"): 10mm & 25mm

Direct SLR Camera Connection

6x30 Finderscope

Dual-Fit 1.25"/2" Focuser

2"/50.8mm Star Diagonal

Multi-Coated Objective Lens

EQ3-2 Deluxe Equatorial Mount

Built-in Polar Alignment Scope Holder

Aluminium Tripod with Accessory Tray

28% more Light Gathering than 90mm
Read more...
We Also Recommend