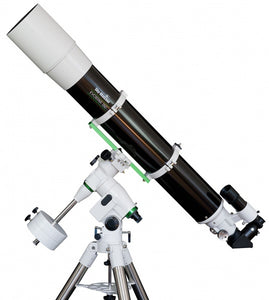 Skywatcher Evostar 150 EQ5
€1.339,90

€1.339,90
Tax included.
The Sky-watcher EVOSTAR series are two-element, air-spaced, multi-coated objective achromatic refractors.
They are truly outstanding, high-performance, high-resolution instruments manufactured to extremely high standards of optical and mechanical precision.
This Evostar 150mm refractor is mounted on a manually controlled EQ5 Equatorial mount.
With their long focal lengths and breathtaking, diffraction limited optical performance, they are ideal for the detailed high-power study of the Moon, Planetary Surfaces and other objects in our solar system, giving crisp contrasty images.
These telescope packages will stand you in great stead for a lifetime of serious astronomical viewing.
Tube Material: Aluminium
Evostar Achromatic Refractors
Ade Ashford Says…
"Refractors have long been coveted by many observers since the unobstructed optical system offers high contrast views much prized by lunar and planetary observers as well as many aspects of deep-sky viewing. Sky-Watcher's EVOSTAR range delivers a comprehensive range of robust, low-maintenance tube assemblies on matching mounts to suit all requirements."
Ade Ashford BSc
Standard Specifications:
 
Magnifications (with optics supplied): x48 &x120

Highest Practical Power (Potential): x300

Objective Lens Diameter: 150mm

Telescope Focal Length: 1200mm (f/8)

Eyepieces Supplied (1.25"): 10mm & 25mm

Direct SLR Camera Connection

9x50 Finderscope

Dual-Fit 1.25"/2" Focuser

1.25"/31.7mm Star Diagonal

Multi-Coated Objective Lens

EQ5 Deluxe Heavy-Duty Equatorial Mount

Built-in Polar Alignment Scope Holder

1.5" Stainless Steel Pipe Tripod with Accessory Tray

56% more Light Gathering than 120mm
Read more...
We Also Recommend