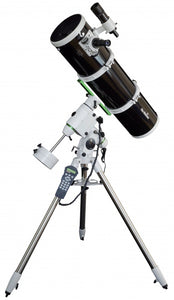 Skywatcher Explorer 200P HEQ5 PRO SynScan Goto
€1.849,90

€1.849,90
Tax included.
The EXPLORER-200P models feature premium-quality Parabolic Primary Mirrors, normally found in larger more expensive telescopes, to eliminate spherical aberrations, producing even sharper, higher-contrast images which are full of detail. A parabolic or more accurately a "paraboloidal" mirror, is ground to a shape which brings all incoming light rays to a perfect focus, on axis. In addition they feature 0.5mm Ultra-Thin secondary mirror supports, to reduce diffraction spikes and light loss.
Standard Specifications:
Magnification (with eyepieces supplied): x40, x80, x100, x200

Highest Practical Power (Potential): x400

Diameter of Primary Mirror: 200mm

Telescope Focal Length: 1000mm (f/5)

Eyepiece Supplied (1.25"): 10mm & 25mm

x2 Deluxe Barlow Lens 1.25"(with camera adaptor)

Dual-Fit 1.25"/2" Focuser

Parabolic Primary Mirror

0.5mm Ultra-Thin Secondary Mirror Supports

9x50 Finderscope

Direct SLR Camera Connection

EQ5 SynScanTM Computerised GOTO Equatorial Mount (Requires 12 volt DC Power Supply)

Built-in Dual-Axis Stepper Motors

Built-in Polar Alignment Scope Holder

1.75" Stainless Steel Pipe Tripod with Accessory Tray

77% more Light Gathering than 150mm
Precision Computerised GO-TO Mount!!
Read more...
We Also Recommend