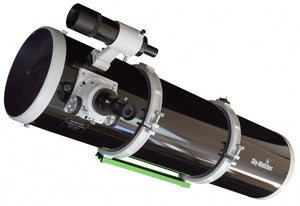 Skywatcher Explorer 200P Ota
€439,95

€439,95
Tax included.
The Skywatcher Explorer 200P features a 200mm Parabolic primary mirror, and id the perfect upgrade for the expanding astronomer.
Standard Specifications:
Magnifications (with eyepieces supplied): x40, x80,  x100, x200 

Highest Practical Power (Potential): x400

Diameter of Primary Mirror: 200mm

Telescope Focal Length: 1000mm (f/5)

Eyepiece Supplied (1.25"): 10mm & 25mm

x2 Deluxe Barlow Lens 1.25" (with Camera Adaptor)

Dual-Fit 1.25"/2" Focuser

Parabolic Primary Mirror

0.5mm Ultra-Thin Secondary Mirror Supports

9x50 Finderscope

77% more Light Gathering than 150mm
Read more...
We Also Recommend