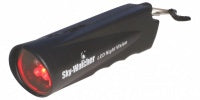 Skywatcher Red Dual LED Torch
€24,95

€24,95
Tax included.
A red flashlight is one of the most beneficial accessories you can own as an amateur astronomer, no matter how occasional your night sky observations may be.  Also, if you plan to observe with other people, whether at a star party or in your own neighborhood, a red flashlight is an important part of good star party etiquette.
When you are outside doing astronomy, or any night-time activity that requires you to see as well as possible, any white light is a detriment.  Every time you use white light, your eyes react.  The pupils contract, making their aperture smaller, and a smaller aperture always means less light-gathering, whether we are talking about your eyes or your optical equipment.
A red flashlight allows you to see your star charts, find an eyepiece in your accessory case, or pick your way over telescope cables and other obstacles without affecting your night vision.  The better your night vision, the more you can see in the eyepiece.
Night vision protecting red light for map reading and telescope operation

Instant switch between Red and White Light (two pairs of LED's)

Adjustable Brightness

Battery included
Read more...
We Also Recommend