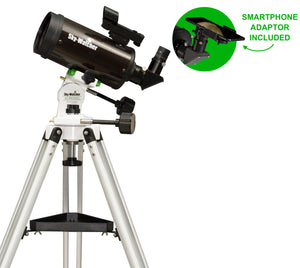 Skywatcher Skymax 102S AZ Pronto
€369,95

€369,95
Tax included.
Skywatcher Skymax 102S AZ Pronto
The compact but powerful Skywatcher Skymax 102 AZ Pronto is ideal for the observation of double-stars, and the surface detail of the Moon and bright planets. Its high-resolution, long focal length optical system is multi-coated to maximise contrast and image sharpness.
The well engineered and easy to use Skywatcher Skymax 102S AZ Pronto provides excellent stability and precise control, via its slow motion cables, on both the horizontal (azimuth) and vertical (altitude) axes.
You can now capture images as this telescopes comes supplied with a Smartphone Camera Adapter
Standard Specifications:
Magnifications (with eyepieces supplied): x65 & x130

Highest Practical Power (Potential): x204

Diameter of Primary Mirror: 102mm

28% more Light Gathering than 90mm

Telescope Focal Length: 1300mm (f/12.74)

Eyepieces Supplied: 10mm & 20mm

Red Dot Finderscope

90º Star Diagonal 1.25"

AZ PRONTO Alt-Azimuth Mount & Aluminium Tripod with Accessory Tray

Mount Rotation Angle: 360° (Azimuth), -70° to + 90° (Altitude)

Height Range of Tripod/Mount (excl. OTA): 78.5cm - 150cm

Total Overall Weight: 5.85kg
Read more...
We Also Recommend