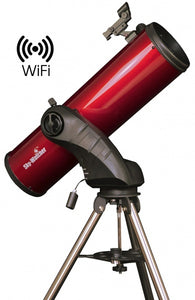 Skywatcher Star Discovery P150i WiFi Goto Parabolic Reflector
€719,95

€719,95
Tax included.
Skywatcher Star Discovery P150i WiFi Goto Parabolic Reflector
The Skywatcher Star Discovery P150i WiFi Goto Parabolic Reflector has been designed to be controlled wirelessly with your Smartphone or Tablet, using the free SynScan App for iOS or Android. The supplied Synscan™ Wi-Fi module creates it's very own Wi-Fi network, so the mount can be used anywhere, without any reliance on other WiFi or mobile networks. After entering your coordinates into the App and following a simple alignment procedure, you are ready to explore the universe using the App's intuitive touchscreen menu.
The Skywatcher Star Discovery P150i WiFi Goto Parabolic Reflector and SynScan™ App provides full computerised GO-TO control, allowing the telescope to be automatically slewed to any one of the objects in the App's extensive database of 10,000+ celestial objects. Incorporates Sky-Watcher's Freedom-Find™ patented Dual-Encoder Technology, which allows the telescope to be moved manually in either axis without the mount losing its positional information. This gives the user enormous freedom, convenience and flexibility during observational sessions.          
With an extremely useful 150mm of light gathering aperture and a superb parabolic primary mirror the Skywatcher Star Discovery P150i WiFi Goto Parabolic Reflector is a highly capable all-rounder for the observation of the Moon, bright planets, nebulae, galaxies and star clusters, and is easy to carry and transport.
MAIN FEATURES
Magnifications (with eyepieces supplied): x30 & x75 

Highest Practical Power (Potential): x300

Diameter of Primary Mirror: 150mm

Telescope Focal Length: 750mm (f/5)

Eyepieces Supplied (1.25"): 10mm & 25mm

Parabolic Set Primary Mirror

Red Dot Finder

1.25" Rack & Pinion Focuser

Star Discovery AZ Go-To  Alt-Azimuth Go-To Mount with Dual-Axis Tracking

Freedom-Find™ Dual Encoder Technology

Synscan™ Wi-Fi Adaptor Module

Controller: Free SynScan App for iOS and Android mobile device or Synscan Hand Controller (available separately)

SynScan App Database: Total 10,000+ Objects. Deep Sky Objects: 10759, including Messier, NGC, IC, Caldwell Catalogues, Named DSOs, Named Stars: 305, Double Stars: 55, Solar system objects: 7 planets, Sun , Moon. (Unlimited objects when working with a 3rd party planetarium software).

SynScan App Alignment Method: Brightest Star Alignment, North-Level Alignment

SynScan App's Other Features:  Tonight's Best Sky Tour, Point and Go with a mobile device, Identification of Celestial Objects, Remote control over Internet, User defined objects, Pointing Accuracy Enhancement (PAE)

45mm Sky-Watcher/Vixen type dovetail saddle

Interface: SynScan Hand Control Port, DSLR Shutter Release Port (optional cables available separately)

Connectivity:  ASCOM platform for Windows PC, Mobile planetarium App for iOS and Android ( SkySafari Plus/Pro, more are coming).

Power Requirement: 12v DC 1Amp Power Supply (Tip Positive) or 8 x AA Batteries (not supplied)

Sky-Watcher 7Ah or 17Ah Power Tank Recommended

Stainless Steel Tripod with Accessory Tray

33% more Light Gathering than 130mm
SKY-WATCHER DELUXE MIRROR COATINGS
Most reflectors today usually have a coat of aluminium as the mirror surface and then an overcoat of silicon monoxide or silicon dioxide to protect it. Silicon dioxide produces a much more durable coat than silicon monoxide but requires specialized equipment to apply it and is therefore more expensive. Protection is needed, because in most reflectors, the mirror is open to the elements and deterioration of the reflective layer reduces the resolution of the telescope. ALL Sky-Watcher reflectors are Multi-Coated with Silicon Dioxide as standard for Optimum Durability and Long Term Performance.
Read more...
We Also Recommend