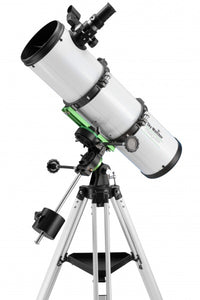 Skywatcher Starquest 130P Reflector Telescope
€319,95

€319,95
Tax included.
Skywatcher Starquest 130P Reflector Telescope
The Skywatcher Starquest 130P Reflector Telescope is a lightweight, 'grab-and-go' scope combining proven high quality Sky-Watcher telescope optics with a newly designed and well-engineered equatorial mount. The mount features a high quality clutch system, precision 122 gear-tooth/360° gearing on both axes and excellent stability with a maximum payload of 3kg. The equatorial mount, when polar aligned, allows you to easily track objects as they move across the night sky with its smoothly operated slow motion control cables.
With an extremely useful 130mm of light gathering aperture and a superb parabolic primary mirror, the Skywatcher Starquest 130P Reflector Telescope package is a highly capable all-rounder for the observation of the Moon, bright planets/nebulae, galaxies and star clusters
Supplied complete with Equatorial Mount and adjustable aluminium tripod.
Technical Specifications:
Magnifications (with eyepieces supplied): x26 & x65

Highest Practical Power (Potential): x260

Diameter of Primary Mirror: 130mm

Telescope Focal Length: 650mm (f/5)

Eyepieces Supplied: 10mm & 25mm

Red Dot Finder

Equatorial Mount with Adjustable Aluminium Tripod and Accessory Tray

Smooth Slow-Motion Control Cables to both RA and DEC Axes

Counterweight Bar with Counterweight

30% more Light Gathering than 114mm
Read more...
We Also Recommend