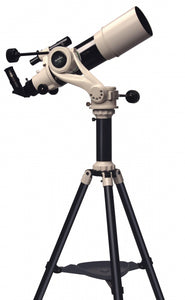 Skywatcher Startravel 102 AZ5 Deluxe Refractor Telescope
€549,95

€549,95
Tax included.
Skywatcher Startravel 102 AZ5 Deluxe Refractor Telescope
A nice sized 102mm refractor, on a simple to use high quality AZ5 tripod, it doesnt get much easier than using this Skywatcher Startravel 102 AZ5 Refractor Telescope! And it does your night time astronomy as well as daytime terrestrial viewing without the need for any more adapters.
The compact Skywatcher Startravel 102 AZ5 Refractor Telescope has a 102mm, two-element, air-spaced, multi-coated objective lens, achromatic refractors, and is a well proven performers for 'Rich-Field' views of star fields, clusters, nebulae, bright galaxies, planets, the Moon and, the Sun (with correct safety filtering!), as well as giving excellent terrestrial views.
These wide-field, short-tube telescopes are also highly portable, and highly recommended for those starting off.
Standard Specifications:
Magnifications (with eyepieces supplied): x20 & x50

Highest Practical Power (Potential): x204

Objective Lens Diameter: 102mm

Telescope Focal Length: 500mm (f/5)

Eyepieces Supplied (1.25"): 10mm & 25mm

Direct SLR Camera Connection

6x30 Finderscope

Dual-Fit 1.25"/2" Focuser

90º Erect Image Diagonal 1.25"

Multi-Coated Objective Lens

AZ5 Deluxe Alt-Azimuth Mount

Aluminium Tripod with Accessory Tray

Mount Rotation Angle (Continuous): 360° (Azimuth), -50° to + 90° (Altitude)

Height Range of Tripod/Mount (excl. OTA): 86.5cm - 158.5cm

Total Overall Weight: 7.5kg

62.5% more Light Gathering than 80mm
Read more...
We Also Recommend