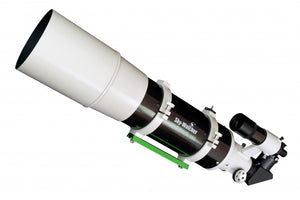 Skywatcher Startravel 150T Ota Refractor Telescope
€839,95

€839,95
Tax included.
Specification and optics same as Startravel-150 EQ5 but supplied without mount and tripod.
Supplied with 10mm and 25mm eyepieces, 9x50 finder-scope, tube rings and dovetail mounting bar.
The compact Sky-Watcher STARTRAVEL series are two-element, air-spaced, multi-coated objective, achromatic refractors, and are well proven performers for 'Rich-Field' views of star fields, clusters, nebulae, bright galaxies, planets, the Moon and, the Sun (with correct safety filtering!), as well as giving excellent terrestrial views.
These wide-field, short-tube telescopes are also highly portable. They also are popular for use as guide scopes on larger telescopes.
All models excel as fixed aperture lenses for both Astrophotography and terrestrial photography.
Their "fast" focal ratios combined with today's high-speed films make them useful for capturing lunar and solar eclipses as well as nature photographs. Tube material: Aluminium.
Standard Specifications:
Magnifications (with optics supplied): x30, x75

Highest Practical Power (Potential): x300

Objective Lens Diameter: 150mm

Telescope Focal Length: 750mm (f/5)

Eyepieces Supplied (1.25"): 10mm & 25mm

Direct SLR Camera Connection

9x50 Finderscope

Dual-Fit 1.25"/2" Focuser

1.25"/31.7mm Star Diagonal

Multi-Coated Objective Lens
Read more...
We Also Recommend