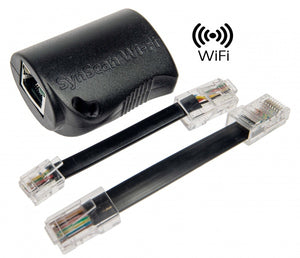 Skywatcher Synscan WiFi Adapter
€109,95

€109,95
Tax included.
The SynScan Wi-Fi Adaptor Module enables all of Sky-Watcher's Go-To mountings and telescopes to be controlled wirelessly from your smartphone or tablet using either the SynScan App or SynScan PRO App, which are available for free download from either the Google Play or App Store. Wireless control is also possible via ASCOM from a PC.
The Wi-Fi adaptor module easily connects to the mount's hand control port with one of the supplied RJ12 to RJ45 or RJ45 to RJ45 cables. No batteries are required as the operating current is provided by the mount. (*Please note the EQ6 PRO should be connected to the Wi-Fi Adaptor Module using the hand control cable originally supplied with the mount).
 
The Wi-Fi adaptor module creates it's very own Wi-Fi network, so the mount can be used anywhere, without any reliance on other Wi-Fi or mobile networks. After entering your coordinates into the relevant Synscan App and following a simple alignment procedure, you are ready to explore the universe using the App's intuitive touchscreen menus.
The SynScan Apps also support the SkySafari Plus/Pro mobile planetarium App for Android and iOS (Please note that iOS connectivity at time of writing is currently limited and two devices are required).
Both the SynScan app and SynScan Pro app now support ASCOM for slewing, GOTO and Pulse Guiding. The Sky-Watcher ASCOM telescope driver can be downloaded from www.skywatcher.com
Read more...
We Also Recommend