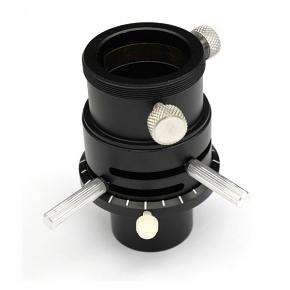 ZWO Atmospheric Dispersion Corrector
€169,95

€169,95
Tax included.
The first ADC made by amateur astronomers for amateur astronomers! A must-have for serious planetary observers and photographers...
The ZWO Atmospheric Dispersion Corrector is a good alternative to more expensive similar devices for observing and imaging objects at low altitude.
The inner planets are always very near to the horizon therefore they cannot be observed at high altitudes. Even the outer planets appear frequently in not the best locations (i.e. at low altitude) where an ADC would be very helpful to correct the effects of atmospheric disparsion.
The ZWO ADC includes two high quality prisms of 1/10 Lamda surface quality. By a certain positioning of these prisms you can counteract the effects of atmospheric dispersion, i.e. reduce or possibly even completely eliminate the false colour introduced by the earths atmosphere.
More detailed info about atmospheric dispersion and the use of ADCs you can read here: Martin Lewis tells you what an ADC is and why you need it.
Read John Boudreau's review of the ZWO ADC on the CloudyNights forum:  ZWO's ADC

 
Specifications
Threads T2 Male and Female

Dimensions TBC

Optical Aperture TBC

Optics: 2 Prisms

Deviation Angle: 2 Degrees

Surface Accuracy λ/10@632.8nm

See image for transmission details

UV friendly AR Coating
Read more...
We Also Recommend