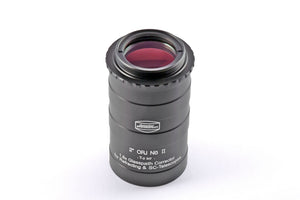 Baader 2" Glasspath Corrector 1.8x for Refractor and SCT
€195,95

€195,95
Tax included.
2" Glasspathcorrector®

 

Factor 1,8 for Refractors and Schmidt Cassegrains - at full aperture.
Suitable to insert into the Baader Maxbright and Mark V Großfeld Binocular viewer (insert diameter: ∅ 2" - 50,8mm, incl. M48 filter thread)
You need additionally the T-2 Maxbright mirror diagonal (#2456100) and only for the Mark V Binocular a T-2 change ring (#2456320) to change to 90°. The optical lengths have to be exact so we can only recommend this combination
A Baader Glaspathcorrector®

 

is not a Barlow lens! The reason for this name is only secondly the displacement of the focal point
A Glaspathcorrector®

 

is primarily intended to correct the prismatic color fringing that occurs on Refractors due to the high amount of glasses used in binocular prisms
Read more...
We Also Recommend