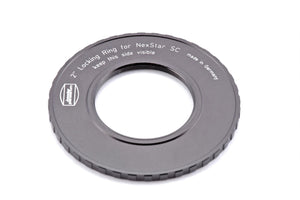 Baader 2 Inch Nexstar Locking Ring
€39,95

€39,95
Tax included.
Baader 2" Nexstar Locking Ring
Allows direct connection of Baader 2" Zenith Prisms and mirrors to Schmidt-Cassegrain telescopes.
For Celestron SCTs 8/9.25/11/14 with female 2" thread (5 mm optical length)
For space-efficient connection of 2 "accessories to the large NexStar telescopes - just the 2" screw housing directly at the telescope.
In this way you gain 20% field of view and you can connect for example binoviewers with the help of our 2" prisms and mirrors
Read more...
We Also Recommend