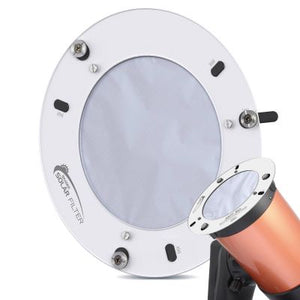 Baader ASTF Astrosolar Telescope Filter
€99,95

€99,95
Tax included.
Baader Solar Filters provide a professional and secure solution to observe and image the Sun using AstroSolar Safety Film.
Available in 80mm, 100mm, 120mm, 140mm, 160mm, 180mm, 200mm, 220mm, 240mm, 280mm
*** Follow this link to easily identify the Baader solar filter that best fits your model ***
All Baader Solar Filters feature:
• Original Baader AstroSolar® Safety Film (OD 5.0), cell mounted and quality inspected by skilled members of our staff
• Clear white IR-rejecting front ring with reinforcing raised edges along the outer and inner circumference, designed to protect the solar filter material from contact with any sharp metal edge
• 3 injection molded centering-bolts with threaded brass inserts to center the filter-cell in front of the tube opening. These bolts come in three different diameters, depending on the filter category (ASTF/ASSF/ASBF). Each bolt features injection molded rubber grip-faces, shaped to easily slide onto any telescope tube – but are very hard to come off
• No tool mounting and adjustment of the centering bolts to fit a wide variety of mechanical tube diameters. Bolts made to contact the outside or optional (if appropriate) the inside of the optical instrument tube
• Non-rotating sliding fasteners made from aluminum that hold the centering bolts. These metal sliders are equipped with a machined indicator to point towards the adjustment index
• Additional Phillips screws are integrated into the sliding fasteners, so that the centering bolts can be firmly fastened with a screw driver if preferred by the user
•Iindex scale provided beside each adjustment slot – adjacent to each sliding fastener, for fast and repeatable adjustment of the filter cell onto different telescope tubes
• Black sliding washers supplied to securely cover the full length of the adjustment slots in the aluminum frame
• For blocking sunlight from passing trough the filter cell beside the filter area
• Rubber plugs supplied as cover for closing unused adjustment slots in the aluminum frame
• 3 security straps included, to secure the position of the filter cell with Velcro-adhesive pads. A safety feature to absolutely ensure a secure fit in front of the telescope under any circumstances (gust of wind asf)
• Warning text printed onto the front side of each filter cell: Read the Instructions before use
• Cardboard gift box fit for safely shipping the filter
ASTF: (AstroSolar Telescope Filter) This family of solar filters is made in the most elaborate way. AstroSolar must not be put under stress, neither during mounting the film, nor during any temperature change. For this reason the ASTF-Filter features a temperature compensated cell. The film itself is repeatably cemented onto an injection molded ring, whereas the substrate of that ring has the same thermal expansion like the Astro Solar Filter material itself. This free floating film carrier ring is held onto the aluminum frame with the help of another holding ring made of fiber reinforced plastic - for a maximum of security against breaking of the cell. This temperature compensated cell enables the AstroSolar filter material to retain its excellent optical quality at any temperature - be it -30°C or +50°C.
ASTF 80 to 280 packages all come with two sets of centering bolts in 38 mm length ( 3 bolts w.10 mm diameter and 3 bolts w. 20mm diameter ) to cover a wide range of tube diameters.
PDF Downloads
Read more...
We Also Recommend