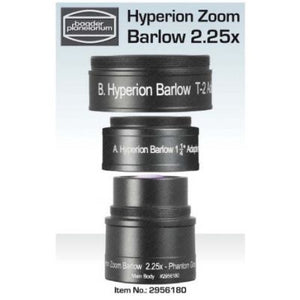 Baader Hyperion Zoom Barlow 2.25x
€134,95

€134,95
Tax included.
Triplet lens design for anastigmatic flat field suitable to complement the high image quality of the Hyperion Zoom. Converts every Hyperion Zoom into a 3.5 - 10.5mm high power Astro-Zoom eyepiece.
Together with the T-2 adapter(included) the Hyperion-Zoom Barlow can likewise serve for any other projection application from 1.3 up to 6x magnification factor.
The Zoom barlow quickly attaches directly to your Hyperion zoom, in dual 2" or 1.25" configuration the image quality truly is astonishing.
The Zoom barlow is Optically Matched for perfect optical performance with the Hyperion 8-24mm Clickstop Zoom, other great qualities are:
• Air-spaced triplet lens.
• Baader Phantom Group Coatings on all air-glass surfaces.
• Enables dual 2"/1¼" Barrel Configuration with all Baader Hyperion Clickstop Zooms (MkI - MkIII)
• Threaded for standard  1¼" filters.
• Includes all adapters needed to couple to any 1¼" filter thread.  Enables attachment to practically any  1¼" Eyepiece for use as a classic APO barlow.
• Includes T-adapter to couple to any T-threaded component, camera, extension tubes, diagonal and more
Read more...
We Also Recommend