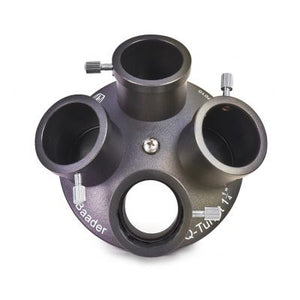 Baader Q-Turret Eyepiece Revolver 1.25''
€51,95

€51,95
Tax included.
Q-Turret - Quadruplet Eyepiece Revolver
(Eyepieces are not included)
Insert your favourite Ortho/Classic eyepieces into the revolver for a variety of magnifications at your fingertips.
This handy accessory fits directly in place of a single 1.25" eyepiece, then 4 of your favourite eyepieces or even a CCD or webcam can be selected quickly and smoothly by rotating the Q turret, it has been designed with a concave shape to allow a very short optical path length of just 38mm, this means it can also be used with many Newtonians.
The barrel is also threaded for use with 1.25" Astronomical filters, so you need not change filters over every time you change eyepieces.,
Read more...
We Also Recommend