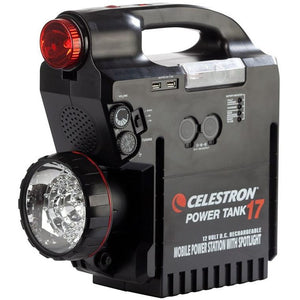 Celestron 17 Ah Rechargeable Power Tank
€159,95

€159,95
Tax included.
Take your telescope anywhere with this portable, rechargeable power supply. Enjoy extended observing and imaging sessions worry-free with 17 amp-hours of power in one convenient package. Use the included removable red flashlight while your eyes are dark-adapted to find accessories and reference star charts. When your session is over, the powerful LED spotlight illuminates your observing area so you can pack up quickly and safely, without leaving anything behind.
The extra large PowerTank 17 is more than just a telescope accessory; it's also an essential roadside assistant. Keep your Power Tank fully charged in the trunk, and you'll have enough power on hand to jump start weak car batteries using the booster terminals. You can even use it to charge drained electronic devices with a cigarette lighter adapter. Power Tank also comes with a built-in siren and AM/FM radio for emergencies.
Be prepared for stargazing and emergencies alike with PowerTank 17!
GENERAL FEATURES:
17 amp hour

2 x 12V DC output car jack socket

DC 3, 6, 9V output jacks

Built-in AM/FM Radio and Siren

Removable red filtered flashlight with magnetic back

Energy efficient LED spotlight

Handy jump-start system - 250 cranking AMPS (5 sec.)

Built-in circuit breaker for safety

Cigarette lighter adapter included

Switchable 110v-220v AC adapter
IMPORTANT:
Common to lead acid batteries, your PowerTank's charge needs to be kept topped up. It is important to recharge your PowerTank after each period of use. Allowing the battery to discharge power over several periods of use, and not re-charging regularly can lead to the condition where the battery can not be charged with the supplied charger. The battery must also be charged before, and regularly during, periods of storage. In many cases, the battery can be rescued by the use of a deep charger, however, if the battery is allowed to discharge completely, and then not charged for a lengthy period, it may become impossible to re-charge at all.
If in doubt, always recharge your Powertank after each period of use. Please refer to the PowerTank instructions for instructions on maintaining your PowerTank. 
Read more...
We Also Recommend