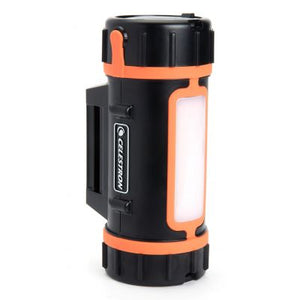 Celestron Powertank Lithium
€224,95

€224,95
Tax included.
The new PowerTank Lithium keeps the charge going for the astronomer on the go. The Lithium Phosphate (LiFePO4) battery chemistry has significant advantages over other battery chemistries.
The LiFePO4 has an un-recharged shelf life of 10 years compared to 3 years for the Lithium Ion and 6-9 months for a Sealed Lead-Acid battery.

The battery performance of the PowerTank Lithium degrades at a much slower pace than other chemistries.

The LiFePO4 can be charged and discharged 2000 times compared to only 500 for a Lithium Ion battery and 300 for sealed lead-acid designs. 

The batteries will last as long as the telescope you use it with!

The LiFePO4 uses phosphates instead of environmentally hazardous elements like cobalt or lead commonly found in other rechargeable batteries.

Can withstand higher temperatures than lithium-ion designs and will not be a fire danger if accidentally punctured.
This combined with it's rugged design make it the perfect outdoor power supply.
Keep your telescopes, smartphones, tablets, GPS systems, cameras and other USB-powered devices as active as you are with PowerTank Lithium—the ideal outdoor portable-charging solution for your electronic gear.
 
FEATURES:
Portable power pack for your computerized Celestron telescope using Lithium Iron Phosphate (LiFePO4) chemistry

Smaller, lighter, safer, and easier to maintain than lithium-ion and sealed lead acid designs

Up to 2000 charge cycles – four times more than lithium-ion & 7 times more than sealed lead-acid designs.

Un-recharged shelf life of up to 10 years – 3 times better than lithium-ion and 10 times better than sealed lead-acid designs

Evironmentally friendly – Does not use toxic heavy metals
SPECIFICATIONS:
Battery Capacity: 86.6 Wh

Charging Input: 16VDC @ 2000mA

Charge Time (from flat): 3 hours

Telescope Outpout: 12VDC @ 3000mA, Tip positive

USB Charging Port 1 Output: 5VDC @ 1500mA

USB Charging Port 2 Output: 5VDC @ 2100mA

Light Panel: Red or White with two brightness settings for each color

Weatherproof/Dustproof: IP-65 rating

Telescope Power Cord: 6.5 feet (2 meters) with connector for Celestron telescopes

Product Dimensions: 7" tall x 2.5" diameter

Product Weight: 1.5 pounds
Included Items:
Battery pack

AC mains charger

Power cord for Celestron telescopes 

Strap for attaching to tripod
PDF Downloads
Read more...
We Also Recommend