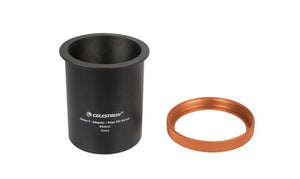 Celestron T-Adapter Edge-HD 9.25" 11" 14" 48mm Full Frame
€114,95

€114,95
Tax included.
Celestron T-Adapter EdgeHD 9.25" 11" 14" 48mm Full Frame

This 48mm T-Adaptor is the accessory of choice if you'd like to attach your full frame DSLR or astronomical camera to a Celestron EdgeHD optical tube. With DSLR CCD chips becoming larger in size, Celestron created the 48mm T-Adaptor to reduce vignetting and provide a larger light path to your camera's sensor, producing exceptional astrophotos.
The standard T-Adaptor for EdgeHD 9.25″, 11″, and 14″ (#93646) comes with a 42mm T-Thread for a 42mm T-Ring. This smaller 42mm T-Adaptor truncates the light cone coming from the back of the EdgeHD optical tubes, which creates vignetting in the corners of full frame imaging sensors. The 48mm T-Adaptor has a larger T-Thread opening, allowing the unhindered light to illuminate the entire sensor, optimising your full-frame sensor's capabilities.
Above: the difference between the 42mm and the 48mm T-Rings to give you an idea of the space the 42mm and 48mm T-Threads on the T-Adaptor will provide.
Using this adaptor allows DSLR camera to be attached the prime focus of an Edge HD telescope. This position is used for terrestrial photography and short exposure lunar and planetary photography. It can also be used for long exposure deep-sky photography when using a separate guidescope.
A wide-48mm T-Ring, specific to the brand/model of camera used is also required for use with the adaptor.
Read more...
We Also Recommend