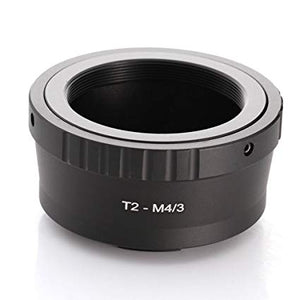 Olympus Panasonic 4/3 T Ring
€32,95

€32,95
Tax included.
The Panasonic/Olympus Micro 4/3 T ring replaces the lens on your Panasonic/Olympus camera allowing you to connect a T adaptor then image directly through your Telescope.
The Panasonic/Olympus T ring most Micro 4/3 Camera bodies, such as Panasonic Lumix G and most Olympus.
Panasonic G1, GH, GF1, G10, G2, GH2, GF2, etc.
Olympus PEN E-P1, E-P2, E-PL1, E-PL2, etc.

Simply choose either the Revelation 1.25", Skywatcher 2" T adaptor, or Celestron T-Adapters as seen below, to connect your camera to your Telescopes focuser.
Some Panasonic Lumix camera will only take this adapter after the removal of a small phillips head screw on the side of the bayonet fitting. This requires the use of a very small jewellers screwdriver
Please note, this product is NOT compatible with the following cameras: Olympus EPL-3, E1, E-300, E-500, E-330, E-400, E-410, E-510, E-3, E-420, E-520, E-30, E-620, E-450, E-600, E-5. Panasonic Lumix DMC-L1, DMC-L10, Leica Digilux 3. All these systems use the older 4/3rds system.
Simply choose your desired T Adaptor:

This is all you need to connect your camera to your Telescopes focuser.
Read more...
We Also Recommend