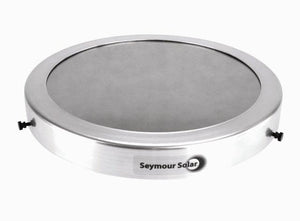 Seymour Solar Glass Solar Filter 8" - 16"
€149,95

€149,95
Tax included.
It is safe to view the sun through this filter directly or mounted on a telescope, finder, spotting scope, etc. 99.999% of the sunlight is blocked.
The aperture is made of a high quality, reflective coated glass and mounted into an aluminum outer cell.
The filter is secured to the optical device with a nylon thumb screw.
A natural yellow-orange image of the sun is viewed through the filter.
It is packaged in a foam lined storage box, and included are instructions for use and care.
To find the correct size filter, measure across the open aperture of your telescope, and choose the nearest filter that is slightly larger than the measurement
Telescope Fitment Guide  & Filter Size Guide:
SF1200 - 11 5/8" - 11 7/8" (295mm - 302mm)
Meade 10" Schmidt-Cassegrain's: Meade 10" LX200 Series, Meade LXD55 SN-10,

LXD75 SN-10, Meade LX90 GPS 10", Meade RCX 400 10"

Vixen VMC260L
If you are looking for a solar filter between 8" and 16", and your scope is not listed, please contact us, as we may be able to get one  for you.
Read more...
We Also Recommend