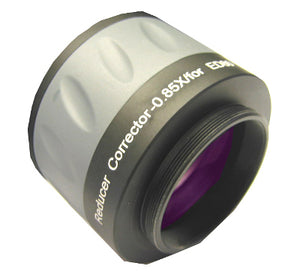 Skywatcher 0.85X Focal Reducer Corrector Evostar ED Range
€283,95

€283,95
Tax included.
Optimised for the Sky-Watcher Evostar ED DS PRO Range.
72mm, 80mm, 100mm, 120mm, 150mm

Designed for serious Astro-Imagers.
This superb quality accessory effectively reduces the telescope's focal length by a factor of 0.85x and provides much improved field-edge correction.
A suitable M48x0.75 adaptor is required to match your camera.
Sky-Watcher manufactured Canon and Nikon M48x0.75 adaptors are available - 
http://www.ktectelescopes.ie/Canon-M48-x-0-75-Adaptor.html
Read more...
We Also Recommend