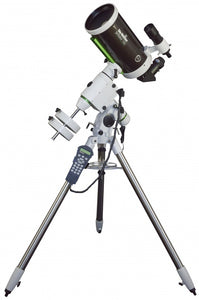 Skywatcher Skymax 150 PRO HEQ5 PRO SynScan
€2.249,90

€2.249,90
Tax included.
Skywatcher 150 PRO on full goto equatorial mount. Ideal for lunar & planetary imaging and observing
The Maksutov Signature Series is the new generation of professional quality Maksutovs from Sky-Watcher. These telescopes are manufactured to the highest levels of optical and mechanical precision, resulting in exquisite optical performance and finish. Even the most critical observer will be delighted and surprised by the performance of the Sky-Watcher Signature Series Maksutov telescopes. In many applications the sharpness and image quality of these telescopes matches and exceeds that of the classic Schmidt-Cassegrain design.
Technical Specifications:
Magnifications with Eyepieces Supplied: x64

Highest Practical Power (Potential): x450

Diameter of Primary Mirror: 150 mm

Telescope Focal Length: 1800mm (f/12)

Eyepieces Supplied (2"): 28mm

9x50 Finderscope & Bracket

2"/50.8mm  Star Diagonal

Focusing by Moving Primary Mirror  

HEQ5 PRO SkyScanTM; Super Heavy-Duty Computerised GOTO Equatorial Mount (Requires 12 volt DC Power Supply)

Built-in Dual-Axis Stepper Motors

Built-in Polar Alignment Scope Holder

1.75% Stainless Steel Pipe Tripod with Accessory Tray
Precision Computerised GO-TO Mount!!
Read more...
We Also Recommend