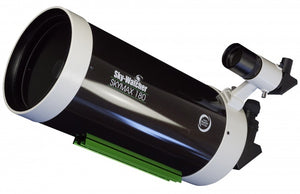 Skywatcher Skymax 180 PRO Ota
€1.419,95

€1.419,95
Tax included.
PRO-SERIES is the name for the new generation of professional quality telescopes and mounts of the Sky-Watcher range, targeted at the most discerning and critical observers.
PRO-SERIES products are manufactured to extremely high levels of optical and mechanical precision, undergoing very strict quality control procedures and testing by specially assigned technicians, to ensure the highest standards of quality and performance are consistently maintained.
Technical Specifications:
Magnifications with eyepieces supplied: x96

Highest Practical Power (Potential): x540

Diameter of Primary Mirror: 180mm

Telescope Focal Length: 2700mm (f/15)

Eyepieces Supplied: 28mm 2" LET, 10mm 1.25 Super Plossl


9x50 Finderscope & Bracket

2"/50.8mm Star Diagonal with Reducer


Dovetail Mounting Bar
Read more...
We Also Recommend