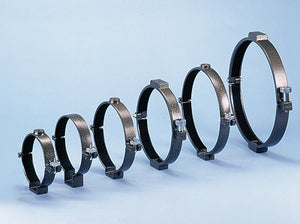 Skywatcher Tubering Sets 90mm - 354mm
€32,95

€32,95
Tax included.
These quality cast aluminium rings are custom-made for use with either the AZ3, EQ1, EQ2, EQ3-2, EQ4, EQ5, HEQ5 and EQ6 (incl. PRO)  mounts/mounting plates, typically Vixen style dovetails.

Rings of the following internal diameters are available:
90mm (for 80mm - 90mm Refractors)

102mm (80ED, 100ED)

120mm (120ED)

140mm (Evoster 150)

182mm(150mm Newtonian)

236mm (200mm Newtonian)

285mm (250PX Newtonian)

Please note, rings are mostly supplied in white now, and no dovetail is supplied.


Rings are supplied in pairs and they are felt-lined and hinged for easy installation of the telescope. By loosening the thumbscrews, the telescope can be easily balanced and rotated. 
Read more...
We Also Recommend