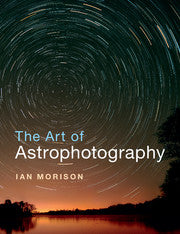 The Art of Astrophotography
€36,95

€36,95
Tax included.
Written by Ian Morison
In The Art of Astrophotography, astronomer and Popular Astronomy columnist Ian Morison provides the essential foundations of how to produce beautiful astronomical images. Every type of astroimaging is covered, from images of the Moon and planets, to the constellations, star clusters and nebulae within our Milky Way Galaxy and the faint light of distant galaxies. He achieves this through a series of worked examples and short project walk-throughs, detailing the equipment needed – starting with just a DSLR (digital single lens reflex) camera and tripod, and increasing in complexity as the book progresses - followed by the way to best capture the images and then how, step by step, these may be processed and enhanced to provide results that can rival those seen in astronomical magazines and books. Whether you are just getting into astrophotography or are already deeply involved, Morison's advice will help you capture and create enticing astronomical images.

 

Worked examples give the reader a comprehensive understanding of the ways that their captured images can be enhanced to bring out their beauty

Covers every type of object, from images of the Moon, planets and comets, to capturing images of the constellations, star clusters and nebulae within the Milky Way and faint distant galaxies

Ideal for use with a range of equipment, from smartphone cameras, through DSLR cameras to more specialised CCD and telescope set-ups
Product details:
Date Published: February 2017

Format: Paperback

ISBN: 97813166618417

Length: 280 pages

Dimensions: 3245x 190 x 14 mm

Weight: 0.62kg

Contains: 198 Colour illus. 2 tables
Read more...
We Also Recommend