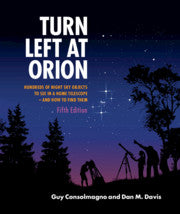 Turn Left at Orion
€32,95

€32,95
Tax included.
Written by Guy Consolmagno & Dan M. Davis 5th Edition
With over 150,000 copies sold since its first publication, this is one of the most popular astronomy books of all time. This unique guidebook to the night sky shows you how to observe a host of celestial wonders. Its distinct format of object-by-object spreads illustrates how deep-sky objects and planets actually look through a small telescope, while its large pages and spiral binding allow for use outside. Along with updated star names and astronomical information, this new edition provides links to a dedicated webpage with up-to-date tables and images, and an improved planets chapter. The many Dobsonian-friendly images and small telescope views have been revised to account for changes in modern telescope technology, such as larger field of view eyepieces. With dedicated chapters on Northern and Southern Hemisphere objects, it's never been easier to explore the night sky, wherever you are.
Now with double the number of night sky objects to observe

Designed for Dobsonian telescopes, as well as for smaller reflectors and refractors

Covers both Northern and Southern hemispheres

Spiral binding makes it even easier to use outdoors
'This is quite possibly the most inviting guidebook ever written to help people with binoculars and small telescopes find, view, understand, and, most of all, enjoy everything in the night sky from the Moon and planets to distant star clusters, nebulae, and galaxies. And if you think it's only for beginners, think again - every telescope owner should have a copy.' Dennis di Cicco, Senior Editor, Sky and Telescope
Table of contents:
1. How do you get to Albireo?
2. How to use this book
3. The Moon
4. The planets
5. Seasonal skies: January–March
6. Seasonal skies: April–June
7. Seasonal skies: July–September
8. Seasonal skies: October–December
9. Northern skies
10. Southern skies
11. Where do you go from here?
Index
Behind the eyepiece.
Product details:
Date Published: Octobeber 2018

Format: Spiral bound

ISBN: 9781108457569

Length: 256 pages

Dimensions: 330 x 261 x 16 mm

Weight: 0.93kg

Contains: 600 b/w illus. 20 tables
Read more...
We Also Recommend